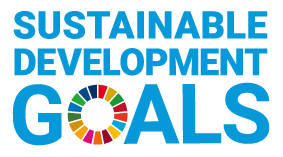 SDGs Declaration by Kirishima Yuusui Co.,Ltd.
We support the Sustainable Development Goals (SDGs) advocated by the United Nations, and will contribute to the realization of a sustainable society.
We support affluent lifestyle by providing safe and reliable water.
We support local revitalization and the safe, secure, and affluent lives of customers nationwide by providing safe, reliable, and high-quality natural spring water.
【 Major initiatives 】
We use natural spring water with a history and value refined in the underground water veins of Kirishima in southern Kyushu.
The water source is strictly inspected and managed by Shibushi City on a daily basis.
High-performance machinery and equipment are installed to maintain high quality.
Pass strict inspection standards based on our experience and achievements.
Safe and secure preserved water in case of emergency (Mineral water for emergency disaster reserves)
We are committed to environmental protection
We will contribute to environmental conservation in the region by reducing environmental impact through our business activities in consideration of environmental management.
【 Major initiatives 】
Apply the Green Purchasing Law to our main products.
Change to environmentally friendly labels and lighter bottles to reduce carbon dioxide emissions.
Replaced air-conditioning systems with those that are more effective in reducing CFC emissions.
Changed boiler feedstock from heavy oil, which emits large amounts of carbon dioxide, to LP gas.
Regular replacement of electric lift batteries, etc. to reduce electricity consumption.
We create a safe, secure and comfortable workplace.
We will continue our efforts to reform the way we work, incorporating the opinions of our employees, and create a workplace where all generations can work comfortably and with vitality.
【 Major initiatives 】
Diversity management for female and non-Japanese employees.
Management that has implemented compliance.
Promoting employee skill development and providing training for environmental conservation.
We have made the connection between the SDGs and our efforts as a starting point for our initiatives. We will pursue our priority issues and strengthen our efforts to solve them.
Kirishima Yuusui Co.,Ltd.
Issued June 3, 2022